IDIS DirectCX™, the industry's most advanced analog HD over coax solution. Based on High Definition Transfer Video Interface (HD-TVI) technology, IDIS incorporates its expertise in image processing to provide unrivaled HD recording performance at a lower cost.
The many advantages of D
irectCX™
• ideal solution for replacement while retaining existing coax cabling, only exchanging cameras and / or hard disk recorder!
• real-time Full HD quality (1080p @ 30IPS) without loss of quality and delay
• OSD camera menu settings via the coax
• cable distances up to 500 meters
• DirectCX ™ hard disk recorders are fully compatible with IDIS Center Solution Suite and IDIS Mobile
• on DirectCX ™ hard disk recorders (existing) analog cameras can be connected (and vice versa)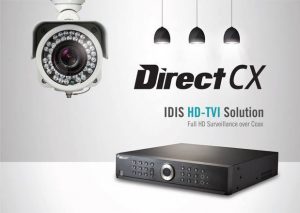 IDIS DirectCX™ is an excellent replacement for the previously sold products with Xineron brand. We have mapped out what DirectCX ™ products replace Xineron products.